The Seven Deadly Sins Store - Official The Seven Deadly Sins™ Merch
The Seven Deadly Sins Merch is the official merchandise for The Seven Deadly Sins anime fans. We are #1 The Seven Deadly Sins Apparel & Collectibles. 
Shop by The Seven Deadly Sins Characters
Pick your favorite The Seven Deadly Sins characters and start browsing thousands of products.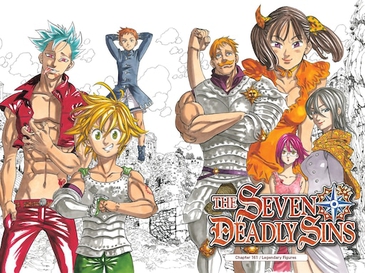 In the enchanting world of Britannia, where magic and myth converge, The Seven Deadly Sins unfolds as an epic tale filled with knights, demons, and
Welcome to The Seven Deadly Sins Store – Official Fan Merch
You will be surprised to find a place like us, especially for readers who are fans of the hot anime. Known since October 2012, the Cardinal Sins manga has been well received in Japan, garnering many awards and selling tens of millions of copies. The series was adapted into an anime television series produced by A-1 Pictures, which ran for two seasons from October 2014 to June 2018.
Therefore, the character of this anime has been an inspiration to many people for a long time. At our official Store we have a wide selection of inspired merchandise ranging from Accessories, Posters, Tote Bags, Pillows to clothing lines, T-shirts, Hoodies, Leggings, Wall Arts…
We stock all the merchandise related to the fiction anime, you'll also enjoy discovering a place like us.
Why not choose a high quality t-shirt or hoodie?
The manga series has been popular around the world for many years and is supported by many creators for the character's style, poses and dialogue, and more. People are looking for Seven Deadly Sins-inspired merchandise everywhere, especially T-shirts and hoodies. Because they are very easy to choose and can be easily matched when you are out.
In Japan, many fashion brands have adopted its style and created their own clothing collections. Here, we're just trying to make it easier for everyone in the world.
Our Collection For Fans By Fans!
Our Official Merch Store is the go-to place to purchase items of various sizes and types. You should buy t-shirts, hoodies, jackets or coats, pillows, mugs, bags, and more, whatever you need.
Our Official Merch Store fast and free worldwide shipping, so you can order something you see on this site. You can buy with peace of mind because it is always our top priority, with convenient and extremely reputable payment methods: Paypal, Credit / Debit Card (including but not limited to Visa, Mastercard, American Express),
For ordering, receiving and payment issues, simply contact us at contact@thesevendeadlysins.store.
Mission of Official The Seven Deadly Sins Merch Store!
At the Official The Seven Deadly Merch Store, everything we promise revolves around our mission to attract so many Cardinal Sins lovers who can hardly find one place that sells them all. merchandise and all are licensed. We need to respect the work of art who created it for us.
We are committed that buyer satisfaction comes first, deal with our potential customers with the utmost respect and provide them with the best high quality service they deserve. enjoy. Our Buyer Help is always available to assist followers with any questions that will arise.
Plot of The Seven Deadly Sins:
In a world where Fairies, Goddesses, and Demons exist. The ones who saved the Liones kingdom from the brink of destruction by the Demon's secret schemes were knights and a princess.
Some time has passed since peace was brought to the Liones. To commemorate this day, the group went to the border area in search of Sky Fish. When the search was halfway through, Meliodas and Hawk were taken to the Sky Temple, heaven high in the sky. The Sky Winged are humans with wings that reside here and Meliodas is imprisoned because of their misunderstanding.
The Sky Temple is in the process of preparing for a ceremony to prevent the release of monsters that have been sealed for three thousand years. A group of Six Black Knights led by Berlion appear against the Sky Winged to destroy the seal. To protect the people from these villains, Meliodas and the others fought against the Six Black Knights.